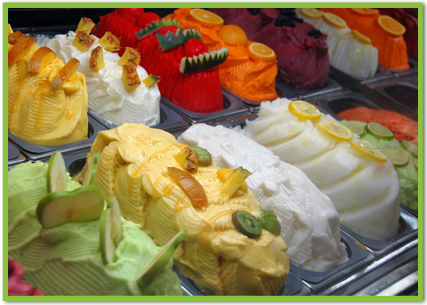 What is Soylato®?
Soylato® is a delicious, non-dairy Italian-style gelato made with all-natural soy. Unlike other soy products, Soylato® tastes nothing like any frozen soy dessert you've ever tried! Carmi Flavors developed a recipe that blends the inspiration of Italian artisan gelato and the healthful benefits of soy to create the most delicious healthy dessert you'll ever eat! Soylato® is a perfect marriage of extraordinary taste, healthy ingredients and an eco-friendly manufacturing process. Today, Soylato® is available for wholesale purchase in a frozen, finished form or a pre-mix powder that can be easily prepared and customized to your nutritional requirements. Soylato® is the most talked about, great tasting, premium non-dairy gelato available.
Why does Soylato® taste so delicious?
Our soy gelato recipe is top secret, but made with whole soy and a few extra ingredients for the most refined and flavorful taste possible. Our distinctive flavors are specifically designed to harmonize with the signature Soylato® soy base and offer an incomparably refreshing taste. In fact, our loyal fans tell us Soylato® has a one-of-a kind, unrivaled taste – refreshing and sweet – where other soy products are a little too healthy tasting and are more like frozen soy milk.
What are some of the health benefits associated with soy?
The research of the potential attributes of soy has been the focus of many recent studies around the world. We do know that whole soy is packed full of antioxidant isoflavones, high-quality protein, vitamins, minerals, polyunsaturated fatty acids, fiber and all nine amino acids essential to human nutrition. Plus, whole soy is low in saturated fat and cholesterol free. According to the U.S. Food and Drug Administration, diets low in saturated fat and cholesterol that include 25 grams of soy protein a day may reduce the risk of heart disease.
Is Soylato® really non-dairy?
Yes! All of our delicious flavors are made without any dairy or fat and with limited calories so you can indulge without compromising dietary restrictions or feeling guilty.
What's the difference between Soylato® and other gelatos on the market?
Soylato® is made with soy and is 100% non-dairy, so that you get the healthy goodness of soy. This differs from most gelatos in the marketplace, which are created using predominantly water, milk and sugar. We work tirelessly to find the highest quality ingredients and provide you with the best-tasting, non-dairy Italian style gelato.
Where can I taste Soylato®?
Carmi Flavors brings Soylato® to fans at food tradeshows across the United States and internationally.